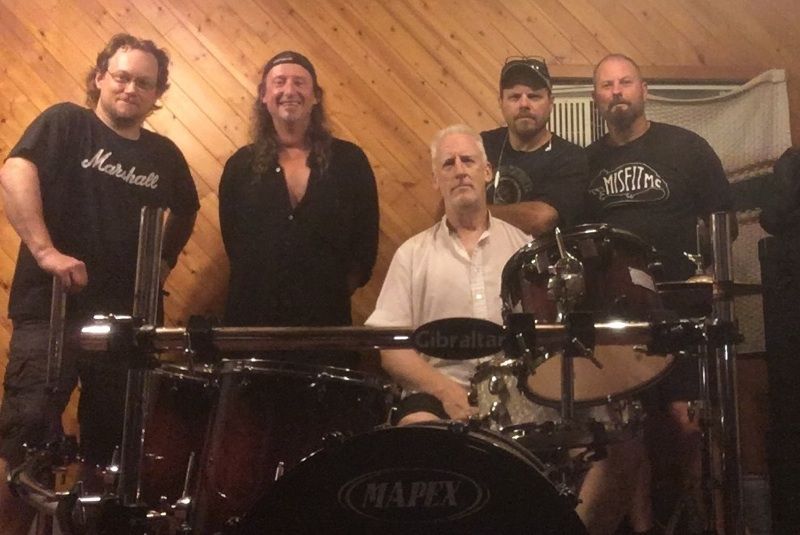 RACE AGAINST TIME was born after London, Ontario hard-rock cover band Blackwing finished its 9 year run in the spring of 2017. Shawn Tolman (bass), Rick Szanyi (guitar), and myself, Andy Skuse (guitar, keyboards) found ourselves wanting to continue the recording project that officially had begun in early 2012. 
In the summer of 2017, with several songs already at the demo stage, we started writing again with the intent of recording a 10-song album in my basement home studio. The original title of the album was Into The Shadows, and though that title was eventually dropped, it served as the main theme for the lyrical ideas that I had been developing, about stepping into the unknown and facing your fears. 
As more songs came to life, we realized we needed a drummer to help us flesh out the tunes. After a lengthy search, Dale Penney joined the band in March of 2018. Dale has been playing for many years in and around London with several bands including Nail and Howzat.
With Dale on the drums, we started practicing the songs together and made steady progress, but just as we were starting to consider looking for a singer, we hit a big hurdle. Unfortunately my neighbours weren't fans of loud music, and we had to find a new rehearsal space. Prices around town were around $400 a month for a tiny 10' x 10' room so things were looking pretty dire. But Shawn managed to find a space out of town where we could make as much noise as we wanted. 
The "Old Shed", as it had been nicknamed, was a 20 minute drive outside of the city, but it had once been a granny-flat and had also been used by another band previously so it was perfect. As the summer began to fade, we packed up our gear and moved in to our new "home" and started practicing in earnest again. 
Shortly after starting to rehearse at the Old Shed, Shawn suggested a singer he knew, Scott Goddard. Scott had sung in several local hard-rock bands previously, and was anxious to get going with a band again. After Scott auditioned with a handful of cover tunes, we had found our singer!
As of this writing, we are hard at work practicing the songs, writing lyrics and starting pre-production for drum recording. Please check back for updates, pics and video from the recording sessions. Stay tuned! 
Andy - Oct 28 2018